| | |
| --- | --- |
| | |
Test Drives

20 Apr 09 13:03
Hyundai SONATA a New Korean Saloon
CarSanook.com
John K Lindgren
| | | |
| --- | --- | --- |
| | | |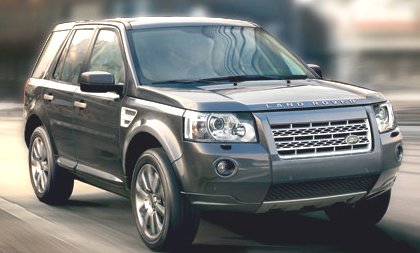 Land Rover ... the classic name in cars for the extraordinary driver...

Visit Land Rover

Korea on the move
South Korea or the Republic of Korea is hot these days. There are Korean soap operas; Korean BBQ restaurants; Korean TV comedy; Korean megastars like singer and dancer Rain; more Korean made IT products at malls and shopping centers and last, but not least, there is a new Hyundai, the Korean car!

I recall when I was in Korea years ago; there was not a single Japanese vehicle on the roads. No HINO buses trucks or Kawasaki motorbikes in sight; no Toyota; Nissan, Honda or Mitsubishi salons! Only Korean made vehicles.Here in the Kingdom, Hyundai has made a comeback after withdrawing from the Kingdom ten years ago in the aftermath of the painful economic meltdown in '97.

2008 and Hyundai is back in the showrooms and on the Thai tarmac with a new importer/distributor: Hyundai Motor (Thailand) Co., Ltd with a Japanese President Mr Yoshizumi Kurata a sign of the internationalization of the automotive business.

The new Thailand line-up consists of the Sonata 4-door sedans the 2-door Sonata sport Coupe, the SUV Diesel powered Santa Fe, and the H1 8-seater 'Mobile Living Room' MPV.

Styling
The Sonata four-door saloon was the pick for the CarSanook.com testdrive.
Our demo Sonata parked in the Q-house Convent Road car park was immediately spotted with its gleaming silver metallic paint job and red "new car" number plates.
The 5th generation Hyundai Sonata may not win the Grand Prix de Concourse d' Elegance contest, but it has clean lines and uncluttered surfaces. It looks like a modern and somewaht like a Toyota Camry, the old Cefiro and a bit Honda Accord, too. The Hyundai slogan says, 'Drive your way.' Our way was the Bagna-Expressway destination Chonburi province, the Eastern Seabord.

Engine
As we left the tollgate, the 2.4 litre DOCH 16 valve, smooth four cylinder, four-speed 161 horse power engine was engaged - flat out! And in fifteen seconds: 180 km/h on speedometer and my navigator (co-driver) says "do we have to go 200 again?" "What about the Police? And the fuel consumption"? "About 10 kilometers per liter around town and up to 15 kilometers on a longer run of mixed motoring - but not at 200 km/h", I answer. (That's what I read in the press kit).

Interior
Even at this speed the ride is steady and cabin is amazingly silent – nice place to be. The big, soft leather seats are comfortable and supportive. There are acres of space, cup holders galore, and a user friendly two-tone instrument panel with a good looking green compact LCD touch screen in the middle connected to the in-car entertainment system. This is year 2009 and the tape cassettes are audio history. This Sonata comes with a DVD, CD, MP3 and the good ol' AM/FM stereo with six speakers. When are we going to have high-speed Internet in our cars? On-line Internet and you tube and Facebook. Hi5 for the passengers – hopefully not for the driver! The fax machine in the car never took off, anyhow.

Safety
Apart from audio the new Korean Hyundai Sonata is loaded with a multitude of features and systems: Electronic Stability Control (ESC); a Traction Control System (TCS); ABS with EBD, four-wheel disc brakes; six standard airbags; active front head restraints; and 16-inch alloy wheels with those fine Michelin MXV tires – the silent tires with plenty of gripping power.

Did I forget to mention the oh-so-nice-to hold high quality firm and cool grey leather wrapped steering wheel. A wheel made for long distance highway cruising as well as rush-hour Bangkok zig-zagging and u-turning. As we descend from the long and straight elevated Bagna-Trat express way it's suddenly down to the urban stop-and-go lane shifting, breaking and occasional honking mode driving.

Welcome to Chonburi province. "Amazing Pattaya by the sea"

With a length of 4.8 meters, 1.8m width and a turning radius of 5.46 meters, the Sonata is easy to drive even in the busy commercial hustle and bustle of South Pattaya. The fully independent and well balanced suspension a comfortable ride.
Parking and reversing is a piece of cake thanks to the audio parking sensor sonar: "bip, biip, biiipp'. Most of the minor and major dents on rear bumpers are results of parking sans parking sensors.

Late in the afternoon it's time to time to top-up before the return drive to "Krungtheep" or Metropolitan Bangkok.

This Hyundai uses 91 or 95 octane, fossil fuel. No Diesel model available yet. At the Caltex pump, it's thumbs up from the attendants "dek-pumm na-mann". And a pick-up driver in a a signal red ball cap asks "is this a Honda Camry?"

As I fire up the engine I answer, "No! This is not a Japanese car – this is a Hyundai Sonata, a Korean car!"

"How much?" he asks.

I grab the wheel with both hands and step on the accelerator, and shout: "1, 285 million Baht." Seconds after I step on it!

The sleek silver Hyundai Sonata soon disappears into the balmy Pattaya twilight headed for the Chonburi-Bangkok motorway.

It's been fun.

Front Page

Printer-friendly version

Mail to friend