| | |
| --- | --- |
| | |
Sanook

12 Jun 09 18:50
Cars & Stars
| | | |
| --- | --- | --- |
| | | |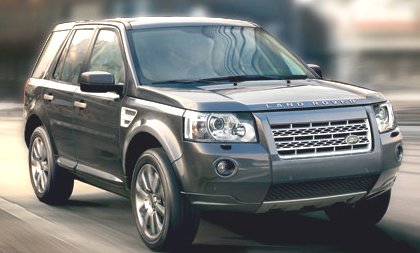 Land Rover ... the classic name in cars for the extraordinary driver...

Visit Land Rover

Stars & Cars

Mr. James Bond and his ultra gadget loaded Aston Martin, Mr Bean and his pint size green Austin Mini and HM Queen Elisabeth of England with custom built, bullet proof hand crafter Mulliner Bentley. And last but not least "Arno" Arnold Schwarzenegger menacing black Hummer – maybe he has replaced it with a hybrid environmentally all so friendly 100 miles to the gallon vehicle.

Car companies and celebrities, football players, movie stars and royalties make great alliances. And we love their cars.

Movie stars in Armani shades, flanked by burly bodyguards getting out of big, black shiny Bentley's and Range Rovers into cordoned off night clubs.

It all looks so exclusive and trendy compared to hoy-polloi riding in a 'Tuk-Tuk"
or a bicycle in Bangkok. Cars and movie stars.

All about timing, endorsement, product presentation and – money.

Remember two, three years ago Punlapa Margaret Taylor aka Paula Taylor, the new first new generation presenter of the pearl white Honda Jazz when it made debut in the Kingdom. A new city vehicle - cute and compact. Honda Jazz became an unprecedented hit in this new segment. And Paula Taylor's TV commercial was an important part of the success.

Before "Paula", the Thai singer and jet ski rider Jetarin Wattanasin was the Mitsubishi "pick-up man" doing the commercials and driving the brand (with his Yamaha on the bed of the truck).

Nissan is another Japanese brand with presenters and TV commercials galore "Tik" Jessadaporn for the new Navara pick-up trucks and TV Radio political commentator
Plym Devakula. "Plym" became the spokesperson for the all new compact Tiida.

Petite "Pancake" drives a metallic pearl white humongous Toyota Fortuner.

Tata Young is linked up with FORD like the movie star "Trio".

And the leader of the truck pack Isuzu D-Max platinum top of the line managed to get "Tomm Yamm Kung" action star Ja Pau with a six figure contract.

The Thai-Danish actor Peter 'Corp" Dyrendal is endorsed by Mitsubishi Motors Triton. Also "Dom" Hetrakula son the the dapper Daily-News tycoon Khun Preecha Hetrakula. And "Mars".

The Thai tennis player Paradorn Srichaphan's "Balls"collection of luxury cars , which includes a yellow Ferrari Modena and a black Mercedes-Benz SL. But previously also a Mitsubishi Pajero for the commercial, only.

Car and stars come and go. Cars to the parking lot, recycling plant or the vintage car club and stars they quietly into semi-retirement or become TV sport commentators – but the endorsements stay.

Front Page

Printer-friendly version

Mail to friend