| | |
| --- | --- |
| | |
Press Releases

23 Feb 10 19:42
Thai Isuzu launches special edition "Isuzu D-Max X-Series" lifestyle pickup
| | | |
| --- | --- | --- |
| | | |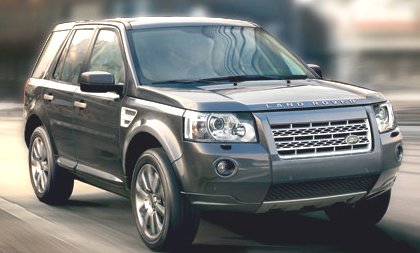 Land Rover ... the classic name in cars for the extraordinary driver...

Visit Land Rover

Mr. Hiroshi Nakagawa, President of Tri Petch Isuzu Sales Compay Limited introduced the special edition "Isuzu D-Max X-series!" the lifestyle pickup for the young generation with stylish design, contemporary interior and exterior thanks to Isuzu's unique Black and Red concept at the Funky Villa, in the trendy Thongloo area of Bangkok

Isuzu commences the New Year with the unprecedented introduction of the special edition "Isuzu D-Max X-Series" Lifestyle pickup. The X-Series opens up a new segment that specifically targets the new generation with stylish design, and a sporty interior and exterior that emphasizes a unique black and red combination which is absolutely modern to suit the new – generation lifestyle.

Mr. Hiroshi Nakagawa, President of Tri Petch Isuzu Sales Co., Ltd. said that the special edition "Isuzu D-Max X-Series" is a radical change from every Isuzu predecessor that has graced the Thai automobile market. "This time our target market is the new generation that never stops to strive for new experiences. The young generation not only studies or works all the time but they know how to live their lives in a variety of lifestyles. Some may be fond of sports, some just want to chill and hang out with friends depending on their personal likes. We believe that the Isuzu D-Max X-Series is suitable for city-driving or taking time with fun-filled events out in the open. More importantly, the X-Series meets all the discerning needs of our target market based on a wide range of functionality and stylish design which is very modern thanks to a black and red color combination which communicates the true personality of the customer who is going to drive the X-Series in a clear and precise manner.

The most outstanding aspect of this special edition of "D-Max X-Series" will be the luscious interior cabin in black and red trim, the new instrument panel and amber-orange illuminated instrument controls which exudes a most sporting emotion.

Besides the X-Series model, Isuzu is embarking on yet another new marketing activities under the "Live the X-Style Life!" concept of the "Isuzu D-Max X-Series" today's launch party of the "Isuzu D-Max X-Series at the Funky Villa pub, featured a special lifestyle show with celebrities and top female models from "Maxim" magazine; and the 1st Class Royal Trophy soccer championship presented by Isuzu which will be held on February 20th at the Supachalasai stadium (opening match will be between the 2009 Thai Premier League champion "Muangthong United" vs The Foundation FA Cup champion Thai Port FC); other "X-style" events will also be included to wet the appetites of customers."

The Special Edition "Isuzu D-Max X-Series"! Lifestyle pickup is the ultimate engineering masterpiece that conveys a new sensation of new pickup with the ultimate stylish design that comes with performance to match a lifestyle that knows no boundaries.

The X-Series is suitable for every lifestyle in every independent perspective. Available in 2-wheel drive system are the following models: Speed, Hi-Lander 2-door and 4-door versions. And in 4-wheel drive: Rodeo and the LS 4-door which come with their own unique "SPORTY-X" styling.



Exterior:

Sizzling hot with the red "ISUZU" logo like no other. Sporty decal up front which is unique and stylish in the Speed and Hi- Lander 2500 Ddi models. Stylish Front Scoop on bonnet emphasizes power of the 3000 Ddi VGS Turbo engine. Window edges and side moulds stand out with chrome trim. Special grey color trim throughout the vehicle, Fenders and Side Steps to emphasize style for the LS version Wrap-around aero-parts in sporty style (for the Speed model)Interior accessorized with the "STYLISH-X" concept which exudes a sporty feel, style, intensity and interface capability with multimedia entertainment.

Red hot "ISUZU" logo located on steering wheel. Extremely exciting.
New sporty dashboard with instrument cluster incorporated with amber-orange
illuminated design to give a captivating sporty appeal
Interior cabin with sharp and intense ambience, with comfortable seats and
door panels made from the finest materials in trendy red trim to be in-trend
Steering wheel and gear knob wrapped with genuine leather
Platinum Entertainment system by Kenwood includes DVD player with 2 Din
monitor at front console featuring touch screen controls and modern
interface capability with iPod*, iPhone*, BlackBerry and Bluetooth
Connection for every modern communication technology delivered in the most
convenient and safest way (*must connect with special accessories) and
Platinum Vision Camera for reverse maneuvers which enhances mobility in
city lifestyle (LS and Hi-Lander models)

Experience real power, a fun drive to the corners of the universe, and a life that knows no boundaries in the "Powerful X" style.

Diesel "Super Commonrail" engine brings out the best of every terrain with best fuel efficiency ratings and Euro 3 emission standard and B5 biodiesel capability.
3000 Ddi VGS Turbo 163hp and 360 Nm
2500 Ddi Turbo 116hp and 280 Nm
A sporty 5-speed manual transmission engineered for flawless gear and
accurate gear changes.
VGS Turbo delivers awesome power despite its ability to give best in-class
fuel efficiency.

Fun everywhere and anywhere, be it in or out of the city. Excellent road grip as the X-Series takes on any rocky, muddy or sandy terrain without easing off the throttle. Power and strength beyond expectations. "CHALLENGING-X"


TOUCH-ON-THE-FLY system which is electronically-controlled allows the
driver to select 2- or 4-wheel drive modes with a simple touch of one's fingertips. An easy and satisfying lifestyle.

Independent Double Wishbone
with Torsion Bar : strong and durable for the LS and Hi-Lander models
with Coil Spring : smooth, grippy and hug then road in the Speed model
Super Flex-Plus Suspension is a specially designed suspension for the 4-door model that delivers a smooth ride while driving yet maintains excellent road grip and outstanding cornering ability

Rear differential is Limited Slip for the LS model which reduces wheel-spin while negotiating rough off-road terrain
Modern technology and best engineering practices result in proven strength and durability tests at the world's best and most grueling international rally competitions

Driving to new activities for a fun-filled lifestyle with
"INTELLIGENCE-X".

The "i-GENii" navigation system takes you to all of your desired destinations. Fast, accurate and creates value for your life with travel plans that will save precious fuel. Increase your confidence while driving and find new experiences even in unfamiliar territories (in the LS and Hi-Lander models).

The "SAFETY-X" system features both Active Safety and Passive Safety for X-Series occupants who want to find new experiences in uncompromised safety.

Dual airbags working in tandem with safety belts help reduce collision forces to the front passenger and driver in case of accident (optional for specific models).
ABS system with 3-channel 4-sensor with Electronic Brake Distribution or EBD system (optional in specific models).
Platinum Vision Camera for reverse gear maneuvers which enhances a versatile lifestyle in the city (LS and Hi-Lander models).
Projector style front-lights for brighter, clear illumination and fog lamps to increase visibility while driving.
Safety Pillar Cab construction for the 2-door model and doors with side-beams for extra strength which assists in collision force distribution.

Front Page

Printer-friendly version

Mail to friend