| | |
| --- | --- |
| | |
| | | |
| --- | --- | --- |
| | | |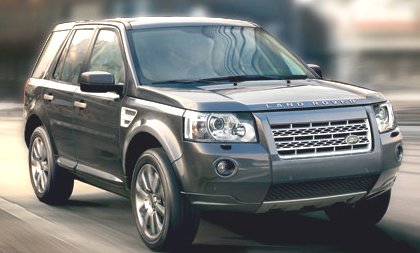 Land Rover ... the classic name in cars for the extraordinary driver...

Visit Land Rover

Ford's New Cleveland Site Manager

Charles Binger, 19-year Ford veteran, named plant manager for the Cleveland site which includes Cleveland Engine Plant No. 1 and No. 2 and Cleveland Casting
Cleveland Engine Plant No. 1 retooled to become the first Ford manufacturing site in the world to produce EcoBoost engines
Ford's EcoBoost engine technology, which combines direct injection and turbocharging, is the cornerstone of Ford's commitment to deliver affordable fuel economy for millions
CLEVELAND, May 19, 2009 – As Ford Motor Company begins production of its new fuel-efficient EcoBoost engines at Cleveland Engine Plant No. 1, Charles Binger takes leadership over the Cleveland facility as the new site manager, replacing Jan Allman who was named the plant manager at Chicago Assembly Plant.

In his new role, Binger will further Ford's strategy to bring affordable fuel efficiency improvements to millions through EcoBoost technology, which provides up to 20 percent better fuel economy and 15 percent lower CO2 emissions compared with larger displacement engines while producing equivalent power output.

"As the first plant to manufacture EcoBoost engines, Cleveland Engine is an essential part of Ford's strategy to bring a new generation of fuel-efficient vehicles to consumers," said Jim Tetreault, vice president, North American Manufacturing. "Charlie's leadership will help deliver the same outstanding quality in our new engines that we've come to expect from the plant's current products."

Cleveland Plant No. 1 is Ford's first facility worldwide to produce the new EcoBoost engines, while Cleveland Plant No. 2 currently produces Ford's proven 3.0-liter V-6 engines.

"The new technology that's been invested in the plant is key to our ability to produce world-class powertrains," said Binger. "With a workforce that's been highly-trained in quality processes and our flexible manufacturing systems, quality is built into the process from start to finish."

Binger joined Ford in 1990, and most recently served as the Plant Manager at Dearborn Engine and Fuel Tank, the world's largest manufacturer of steel fuel tanks. In that position, he achieved best-ever safety, quality and cost performance at the facility. During his 19-year career, Binger has held positions at eight different Ford facilities, including four years at the Lima Engine Plant where he was a manufacturing engineer.

Binger holds a bachelor of mechanical engineering degree from Ohio Northern University and received his MBA from Ashland University.

About Ford Motor Company
Ford Motor Company, a global automotive industry leader based in Dearborn, Mich., manufactures or distributes automobiles across six continents. With about 205,000 employees and about 90 plants worldwide, the company's automotive brands include Ford, Lincoln, Mercury and Volvo. The company provides financial services through Ford Motor Credit Company. For more information regarding Ford's products, please visit www.ford.com.

Front Page

Printer-friendly version

Mail to friend