| | |
| --- | --- |
| | |
Press Releases

19 Jan 10 17:59
Mazda bullish of economic recovery, targets 160 % growth
| | | |
| --- | --- | --- |
| | | |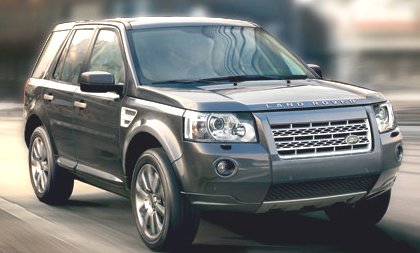 Land Rover ... the classic name in cars for the extraordinary driver...

Visit Land Rover

Mazda Sales (Thailand) Co. Ltd. has announced that it is preparing to introduce new sporty models into the Thai automobile market on a continuous basis, due to the extremely high success of the Mazda2. The comapct Mazda2 is the latest model from Mazda Sales Thailand that was launched in November last year and attracted a large number of sales at the Thailand International Motor Expo. The popularity of the Mazda2, which has set a new trend in the small car market with its cutting-edge design and driving performance, has enabled Mazda to achieve a 10-year-high sales performance, the highest since Mazda Sales (Thailand) Co. Ltd. was set up by Mazda Corporation almost 10 years ago. As for 2010, Mazda expects sales to surge to 34,628 units, reflecting a growth rate of 160%. At the same time, the sales and service network is expected to expand to 130 across the country.

Mr. John Ray, Managing Director of Mazda Sales (Thailand) Co. Ltd.., said the success of the Mazda2 had led to Mazda being able to proudly set new sales records in 2009. "In 2009 Mazda performed better than expected with combined sales of 13,241 units, up 18 percent compared to the previous year where 11,178 vehicles were sold.," Mr. Ray said, adding that this was the highest growth rate among Japanese auto makers in Thailand in 2009. Sales of the BT-50 sports pickup truck reached 5,574 units last year, while the Mazda3, which is still enjoys high popularity, was able to create history once again with sales of 4,800 units, up 16 per cent. Sales in 2009 also include the best-selling sports car in the world, the MX-5, with 47 units, and 26 units of the CX-9 luxury crossover, while a total of 2,794 units of the new Mazda2 have been delivered to customers. "Orders for the Mazda2 are still flowing in continuously and we are speeding up the delivery to another 2,500 customers," he added.

In 2010, Mazda is preparing to launch new and special models for the Thai market throughout the year. The sales target has been set at 34,628 units, up 160 per cent. The Mazda2 will be the major model for Mazda this year, and the sedan version will be launched at the upcoming Bangkok International Motor Show. Combined Mazda2 sales are expected to reach 23,780 units this year, while the continued popularity of the Mazda3 will help it achieve sales of 4,470 units. Sales of the BT-50 sports pickup are expected to reach 6,300 units, while another 78 units of premium model such as the CX-9 and MX-5 are expected to be sold in 2010. In consideration of the market situation, Mazda expects that a total of 600,000 vehicles will be sold in Thailand this year. The company plans to focus on raising the quality of its after sales service in order to restore long-term customer confidence. Apart from launching new models to strengthen the brand, Mazda also plans to raise the number of service centers to 130, up from 106 countrywide, offering customers with world-class servicing standards.

Sureethip La-ongthong Chomthongdee, Marketing Director of Mazda Sales (Thailand) Co. Ltd., added Mazda's success in 2009 is result of the company's unique marketing strategy throughout the year. This has enabled Mazda to reach new heights in terms of sales as well as acceptance of the quality and performance of Mazda products. "In 2010 Mazda will continue to move forward and stage various marketing activities that correspond to the lifestyle of our target groups for each model throughout the year. This year we will launch the sedan version of the new Mazda2 as well as many special models to strengthen our product line-up. We will also be using a number of new media that is becoming more popular and convenient, along with teaming up with business allies to offer creative marketing activities and uncomplicated promotions that will attract our target groups. Mazda has taken the right approach in Thailand, which is different to other manufacturers and is able effectively reach our target groups. We have also designated our long-term strategy to raise the level of brand awareness in terms of quality and performance of Mazda products through public relations and marketing activities during the last 10 years. Mazda is now ready to grow along with the Thai society," she said.

Front Page

Printer-friendly version

Mail to friend