| | |
| --- | --- |
| | |
Press Releases

09 Feb 11 09:40
Ready for BMW Motorrad @BKK MotorShow 2011? KickStart: March 25
| | | |
| --- | --- | --- |
| | | |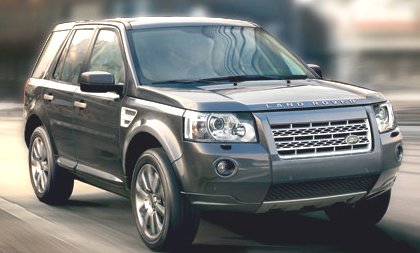 Land Rover ... the classic name in cars for the extraordinary driver...

Visit Land Rover

BMW Motorrad Thailand announced the launch of BMW
K 1600 GTL – the first BMW motorcycle with a 6-cylinder in-line power unit, the supremacy of touring motorbike – at the 32nd Bangkok International Motor Show, 25 March-5 April,at Impact Muang Thong Thani.

Apart from the national premiere of BMW K 1600 GTL, BMW Motorrad Thailand will present the top-line motorcycles such as BMW S 1000 RR – the top performance superbike capable of 0-100 km/h acceleration within 2.9 seconds, BMW G 650 GS – the comeback of lightweight enduro motorcycle with single-cylinder power unit, and BMW F 800 R "The Naked Bike" which is renowned from its rider the four-time World and European Stunt-Riding Champion Chris Pfeiffer.

M.L. Kamolchart Pravitra, General Manager, BMW Motorrad Thailand, said: "BMW K 1600 GTL marks a leaping step forward in the world of motorcycles. It is conceived to be the supremacy of touring motorcycle – in respect to the concept of GT Gran Turismo – with the combination of enormous power and smoothness of power delivery, attributable to the highly innovative 6-cylinder inline power unit.

In Thailand, we choose to offer to our customers the GTL model, with 'L' standing for 'Luxury', which comes with special equipments for luxury comfort, including the special ergonomic seating position suitable for long-distant ride. BMW K 1600 GTL is characterized by its unparalleled power – sheer power and smoothness – from the 6-cylinder engine, as well as highly innovative safety technology, such as DTC Dynamic Traction Control, ESA II Electronic Suspension Adjustment for maximum safety and dynamic ride quality.

Yet another highlight at the Motor Show is BMW G 650 GS – the lightweight single-cylinder enduro motorbike, an entry to the fascinating world of BMW GS adventure – which just had its premiere at the Bangkok Motorbike Festival in the past January.


BMW K 1600 GTLThe first 6-cylinder GT motorbike from BMW Motorrad
Fascinating innovation, safety technology and ride comfort

BMW K 1600 GTL comes with the transversely mounted 6-cylinder inline engine with a capacity of 1,649cc. Its rated output is 160 hp at 7,750 rpm. The maximum torque of 175 Nm is reached at 5,250 rpm. Over 70 per cent of the maximum torque is available from 1,500 rpm. The development goals here were highly superior touring characteristics and ridability combined with maximum running smoothness.

Weighing only 201.6 kilograms, the 6-cylinder power unit of BMW K 1600 GTL is the lightest and most compact serial production 6-cylinder in-line engine in a motorcycle > 1000cc. More importantly, BMW engineered this engine to not only be the lightest, but also the most durable engine in one. As an example, due to the perfect mass balance created by the construction, the 6-cylinder engine does not require a compensation shaft and the associated drive elements, which results both in weight benefits, as well as increased running smoothness.

The chassis is also engineered based on the lightweight concept. The essential elements are the light alloy bridge-type frame, Duolever and lightweight construction Paralever for wheel control at the front and rear. Particular attention was also paid to balancing the masses. The interplay of chassis and engine position together with the seating position of the rider not only makes for a low overall centre of gravity with a very favorable concentration of masses, it also provides a ideally balanced static wheel load distribution of 52 per cent at the front to 48 per cent at the rear.

As a result of the lightweight engineering principle, the BMW K 1600 GTL weighs only 348 kilograms including the side boxes, making it one of the lightest touring motorcycles in the segment.

Apart from the balanced lightweight chassis engineering – which is the basic qualification of safety, BMW K 1600 GTL features a full range of innovative electronic chassis regulation system in order to enhance safety and riding dynamics in simultaneous. As an example, the DTC Dynamic Traction Control helps enhance traction to accommodate various road conditions. The rider has three different engine characteristics available at the press of a button at the right-hand end of the handlebars ("Rain", "Road", "Dynamic") so as to be able to adapt to different uses such as touring on the road, riding on wet surfaces and dynamic motorcycling. In addition, ESA II Electronic Suspension Adjustment allows adaptation of the spring rate allows the damping settings "Sport, Normal, Comfort" to be spread widely in accordance to the ride conditions and load to give them clearly perceptible characteristics during riding.

BMW K 1600 GTL features the hi-tech Multi-Controller with 5.7-inch TFT color display installed in between the speedometer and tachometer. Not only does this system display on-board computer information, but it also functions as the command center of Infotainment system.

Another innovation in respect to safety and comfort is the electrically adjustable windshield with memory function. The aerodynamic qualities in terms of reduced air swirl - especially in the pillion passenger area - were developed by means of sophisticated wind tunnel tests.


BMW G 650 GSThe lightweight single-cylinder Enduro motorcycle
Agility and lightweight

With the new BMW G 650 GS, BMW Motorrad has added yet another attractive member to its BMW GS family. With its lean, wiry off-road stature, the new single-cylinder enduro cuts a cheeky, light, and adventurous figure. At the same time it stands out clearly from its rivals in terms of quality, equipment, and comfort. In conjunction with its relatively low weight and the low seat height, it presents an attractive means of entry to the fascinating world of BMW GS adventure.

BMW G 650 GS features liquid-cooled single-cylinder engine with double overhead camshafts has a displacement of 652cc, delivers 48 hp at 6,500 rpm, and develops a maximum torque of 60 Nm at 5,000 rpm. Thanks to electronic fuel injection, twin-spark ignition, the high geometrical compression ratio of 11.5:1, and a closed-loop catalytic converter, this tried and tested single-cylinder engine is designed for the maximum level of riding pleasure with the best possible efficiency and high environmental compatibility. It shines forth with exemplary low consumption values of, for example, only 3.2 liters per 100 km at a constant 90 km/h.

The suspension of the new G 650 GS was developed primarily for running on country roads and takes the form of an agile chassis with a bridge frame of steel tubing and a bolt-on framework tail that has already seen excellent service on the earlier BMW F 650 GS. Whereas the front wheel is controlled by torsionally rigid telescopic forks, the rear system takes the form of a solid dual swing arm of square steel sections in conjunction with a monoshock linked via a lever system. Besides the optimal riding stability up to the maximum speed of 170 km/h, the new G 650 GS presents a thrilling performance of playful handling on the country road. Adequate spring travel ensures a high level of riding comfort and appealing off-road qualities despite its low seat height.

BMW G 650 GS comes with 19-inch light alloy wheel in the front and 17-inch light alloy wheel in the rear. It also features a factory-installed ABS to enhance safety and stability of this agile lightweight enduro motorbike. The design is distinctive with enduro concept, expressing agility and dynamism through the asymmetric headlamp design. The GS signature also presents on the paintwork and seat upholster of the BMW G 650 GS.

Front Page

Printer-friendly version

Mail to friend