| | |
| --- | --- |
| | |
Press Releases

05 Nov 09 09:33
RACING: Toyota Out of Formula 1
Automotive NewsWire
| | | |
| --- | --- | --- |
| | | |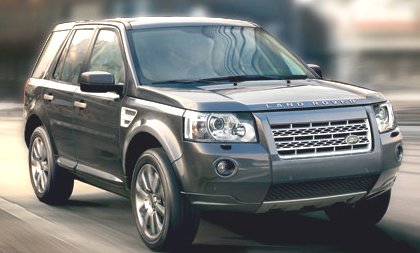 Land Rover ... the classic name in cars for the extraordinary driver...

Visit Land Rover

No more pitstop, no more grid, no more checkered flag for Toyota F-1 team.

You know there's something wrong with a racing series when th ree of its top investors and participants - in this case Honda, BMW and Toyota - all bid the sport good-bye in a less than 12-month period of time.

Formula 1, once considered the pinnacle of automotive racing, where the performance and safety technology improvements in passenger cars were so often pioneered and developed years prior by engineers with vision and determination to win auto racing's most acclaimed rewards, was dealt its second big blow of the month yesterday when Toyota Motor Corp. announced that it was folding its tent and would no longer compete in the series.

Exclusive racing tire supplier Bridgestone announced earlier this week that it would not supply tires beyond 2010.

While a Toyota news release was quick to point out that its decision was based on "current severe economic realities," another reality is that Toyota did not and does not plan to abandon NASCAR racing or road racing. Formula 1 in recent years has ventured beyond the bizarre, controlled largely by two people with what can only be described as excessive personalities, and guided in a direction that ignores the fans and the teams but is centered on wealth generation for a select few. The sport has been ransacked in recent months over scandals involving technology theft, lying and most recently one of the sport's oldest team managers, Flavio Briatore, who was heavily fined and ousted from all racing worldwide when a court deemed accusations were true that he instructed Renault driver Nelson Picquet, Jr. to purposely crash his car in a race in order to improve his teammate's position.

While F1 organizers will boast that they have teams ready to come in and make the investment to join and compete in F1 racing, the sport has lost millions of committed fans in traditional markets in recent years, lost millions in sponsor revenues and lost several key participants representing factory teams who typically make long-term commitments to the sport as opposed to privateers who typically compete for shorter periods of time. F1 organizers will argue that they have established new venues in Asia and the Middle East, but the so-called expansion has come at the expense of traditional markets like the U.S., Canada and Europe.
Toyota's decision to exit F1 could influence Mercedes-Benz and leave it to question its continued involvement. With competitor BMW gone from the sport, along with Honda and Toyota, and left to compete with the likes of Ferrari, Renault and Cosworth, who returns next year as an engine supplier, Mercedes-Benz may take a new view and leave the sport as well.

The recent Toyota and Bridgestone decisions, along with the Honda decision to vacate the sport in 2009, takes the Japanese out of F1 entirely, which means Japanese drivers currently competing in F1 are likely to lose their rides and Japan is likely to lose its venue at Suzuka as well.

Front Page

Printer-friendly version

Mail to friend