| | |
| --- | --- |
| | |
| | | |
| --- | --- | --- |
| | | |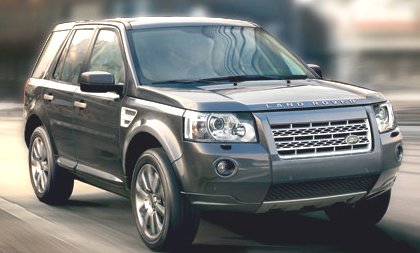 Land Rover ... the classic name in cars for the extraordinary driver...

Visit Land Rover

MINI is celebrating a great birthday: Fifty years ago, on 26 August 1959, the classic Mini was presented to the public for the first time, a unique story of success starting out and today giving MINI the perfect opportunity to look ahead without losing sight of the brand's great tradition.

The MINI Coupé Concept is an expression of MINI design and the great ability of the brand's designers to fill the elementary values of the brand with new life, using the options of modern drivetrain and suspension technology, and developing fascinating perspectives for the future of the brand on this basis.

Presenting the concept of an uncompromisingly sporting two-seater to be seen for the first time at the Frankfurt Motor Show (17–27 September 2009), MINI is unveiling an unusually attractive vision of how the model family may well develop in future.


The MINI Coupé Concept.

The source of inspiration is once again the fundamental motive so characteristic of every MINI: driving pleasure.

The MINI Coupé Concept therefore represents the ideal of a car destined in every respect to offer a thrilling experience and make every journey a truly unique thrill.

The MINI Coupé Concept brings together a wide range of features for a truly sporting and ambitious style of motoring.

Limited to two seats and following a philosophy of consistent lightweight construction, the car clearly meets all the requirements made of a particularly active and dynamic coupé.

Compact dimensions, perfect axle load distribution and a low centre of gravity offer ideal conditions for enhancing the agility typical of MINI to a level never seen before.

Through its design alone, the MINI Coupé Concept brings out all the thrill of individual mobility and the focus on pure driving pleasure.

Powerful proportions and dynamic design language evoke a sense of desire and strong appeal, the MINI Coupé Concept offering a particularly undiluted expression of the brand through its sporting and unconventional stance on the road.

The MINI Coupé Concept: an invitation to enjoy spontaneous mobility. With the growing model portfolio, the popularity of the MINI brand has also grown consistently in recent years.

The MINI has moved beyond the restraints of urban mobility, opening up additional options and winning over new target groups. And MINI allows you to enjoy spontaneous mobility, sporting and agile handling and unmistakable style on virtually every occasion.































Front Page

Printer-friendly version

Mail to friend