| | |
| --- | --- |
| | |
Press Releases

02 Aug 10 13:04
CarSanook! Exclusive! … New Inspiration: Speech by Mr Martin Apfel President of General Motors Thailand/SEA
| | | |
| --- | --- | --- |
| | | |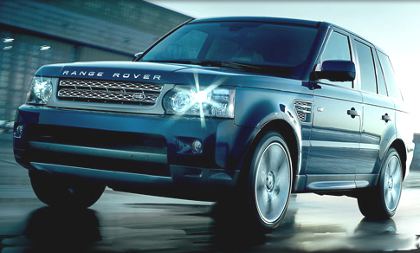 Range Rover ... the ultimate driving experience in the world's most capable all-terrain vehicles. Join us for an experience you'll never forget...

Visit Land Rover

Sawasdee Krup! Yin-Dee-Torn-Rup-Took-Tanh and thank you for joining us today and let me thank you right at the beginning at this event for your past and current support. We are entering an exciting new era for our company. My name is Martin Apfel. I lead GM's Southeast Asia Operations, including our activities here in Thailand..

Today, I would like to share with you my impressions after the first 150 days on the job. I'll also talk about how GM is doing, where it is heading and how we will get there. Following my remarks, I look forward to your questions and comments.

My mission is to build on my predecessors' accomplishments and and drive the next stage of growth for GM's business across 18 markets. Markets with promise and potential The ASEAN "Big Three": Thailand, Indonesia and Malaysia. Mature markets like Japan and Singapore. Small markets like Guam, Vanuatu or the Fiji islands. Challenging markets like Mongolia, Pakistan and Afghanistan. A very diverse set of conditions. And we are building a specific plan for every country, a very specific plan for growth. Every plan starts with the customer; taking the pulse of the market. Not long distance, but on the ground.

As the saying goes: when water is running, it stays fresh. I have actually spent a good portion of my time on travelling, meeting our employees, customers, business partners and media throughout the region. It is the part I like most about my job. Sharing a meal with our most important customers in Chiang Mai. Talking to our service technicians in Penang. Participating in the morning meeting of our sales representatives in Jakarta reviewing their goals for the day. Going through the warranty crib at our Yokohama dealership. Listening to the leadership of our top Thai supplier speak about future business opportunities. Answering e-mails customers send me and making sure they are well taken care of. The people I get to work with are truly great people. These great people and great new products are the foundation of the new GM. Customer focused. Vibrant. Fresh. Quick on our feet. But far from done.

GM has made significant progress in positioning the company for success; Putting in place a new global operating structure and a leaner and more streamlined executive leadership team. Emerging is a new GM with a cleaner balance sheet, an improved cost structure, a stronger dealer network, and vibrant global operations with a mission to "design, build and sell the world's best vehicles".

Most importantly, the company has successfully launched new vehicles around the world that are performing especially well in their respective markets. GM sales are rebounding around the world.

In the U.S., sales of GM's 4 core brands; Chevrolet, Cadillac, Buick and GMC were up 36% in the first six months of the year from the same period last year.

On the strength of our sales and as a sign that our plan is working, we fully paid back all loans to the U.S. Treasury and to Export Development Canada-- early and with interest.

General Motors had 5 of the 10 most successful vehicle launches in the United States.

The Chevrolet Equinox and Camaro, Cadillac SRX, Buick LaCrosse and GMC Terrain were our Top 10 finishers (sharing the stage with Porsche Panamera, Toyota Prius and the Lexus RX350)

Also, GM International Operations has gotten off to a strong first half of 2010. GM unit sales in our region (including South America, Russia and the CIS) rose 31% on an annual basis to about 2.2 million units, advancing our market share to 10.4%.

GM set between January and June all-time first-half sales records in key emerging markets such as China, India, Brazil, Argentina and Egypt. In Korea, GMDAT deliveries were up 28 percent. In South Africa, GM deliveries were up 9 percent on a year-to-date basis. In Australia, GM Holden deliveries increased 22 percent.

We also continue to underpin our growth ambition across the region, with major new investments in Brazil and Uzbekistan, in India and Thailand. As a sign of GM's financial stability, we paid back loans early also in Korea and Argentina.

Southeast Asia has been referred to as the third Asian jewel, alongside China and India. I think that's a good description of this region. With a population that is nearly double the population of the United States, it represents a tremendous opportunity for General Motors.

Key markets in Southeast Asia are booming. The economy is picking up. For Thailand, growth above 6.5% this year becomes a realistic prospect. The car market has a potential to grow beyond 700,000.

Indonesia had the best June ever. The industry this year may end up above 650,000. Malaysia had a record first half growing 20% year-on-year. There is a lot of momentum in the market. For the first half, our Chevy sales in Southeast Asia were up 22.9% from the same period in 2009.

In Thailand YTD sales rose 24%. It is a great time to launch new product in the region. I just returned from the launch of the Chevy Spark at the Jakarta International Motor Show. Edgy and expressive with exceptional levels of space and practicality. It all begins with a spark!

My priority since coming to Thailand and this region - a priority that I share with our global leadership team in Detroit and Shanghai - is to grow, grow and to grow fast and profitably!

We have our eyes set on getting our fair share of the market. Across GM's International Operations we are currently putting 10.4% market share on the score-board. In Southeast Asia we are only at the beginning of our journey to match this number. But we are now laying the foundation to ultimately get our fair share. Realistically starting to walk before we run. But determined to pick up the pace on the way.

Laying the foundation for growth is happening in many ways. We grow for example our local engineering capabilities. Expanding our local Engineering Center by 20% (from 58 people to 71 still this year)

Why: because to grow, we need to build where we sell. And to build here, we need to localize more. And to localize successfully, we need engineering minds on the ground to work with our growing supplier footprint and to achieve a deeper penetration of the value chain.

We are also building closer relationships with our employees, getting them more engaged, informed and making them a part of everything we do.

How?: We do regular web-chats with our people around the region. Very lively, very fast, very direct. Every leader at GM Thailand mentors young talents. Every leader teaches. Employees get product "sneak-previews". 300 of our manufacturing team members have already done a test drive with our next to be launched Chevy Cruze.

600 of our manufacturing team members have spend time in our dealerships. Servicing cars together with the mechanics. Receiving customers with the service advisors. 380 of our manufacturing team members have temporarily taken on new roles as salesmen. Meeting customers at events in department stores and shopping centers around the country. Proudly introducing the product they build with their own hands. Saying with confidence: I built this. It is my Chevrolet. You can trust it. Make it your Chevrolet!

One of my goals -- and part of the foundation for growth -- is to bring those who build the cars closer to those who sell the cars. And to bring all of us closer to the customer.

What can the customer expect of us ? We aim to take care of them better than anyone else; We respect every customer with his individual needs throughout the ownership experience; We meet their aspirations with our products and services.

How?: First of all, by listening, I meet customer at dealerships. Handing over new vehicles or when they have a problem. We invite customers for product seminars and I host customers appreciation dinners. All geared at knowing our customers better to serve them better.

We hold product clinics in the region, testing future designs and tailoring product execution to customer feedback. We recently brought our product designers to Jakarta to experience first-hand the life in a Southeast-Asian Mega-City. Never done before. But it will pay back when we launch new product specifically targeted to that user profile.

We rolled out a service concept, called "Direct Reception" in our dealerships. The customer drives up for his service appointment. Service advisor and customer together go through a review of the vehicle and agree what will be done. More transparency, visible attention to detail, direct interaction.

Another important element of relationship building is targeted at our suppliers. With our new projects, we will increase our annual purchasing value in Thailand alone eightfold, from 200 million US$ to more than 1.6 Billion US$.

We are committed to grow our supply base in Thailand and across Southeast Asia. It is proof to the known truth that a job in automotive assembly creates 3 to 7 jobs in the economy at large. In the parts industry. In services. In dealerships. The automotive industry still is the strongest growth engine and turbocharger for any economy. Countries like Thailand have understood this. Thailand is a good place to invest. Our commitment to Thailand is firm and lasting.

And our suppliers know this as well. We have held three supplier conferences this year already. Reviewing our projects with them in great detail. Soliciting their input and expertise on how we can become a better customer to them. How we can improve our processes and our communication with them. How we can get better at treating them as true partners who listen to one another and grow together.

Relationships are the foundation. Relationships are a commitment. Relationships with customers, suppliers, dealers, and our own employees.

Investing into our product and our facilities in the region is a second key commitment we are making. By investing 500 million US dollars in a new diesel engine plant and into new product programs in Rayong, GM makes one of the largest commitments to a country right here in Thailand. Our new diesel engine plant will manufacture 4-cylinder advanced diesel engines for our locally produced vehicles and for export. It will have a capacity of more than 100,000 engines per year.

These engines-engineered in Europe will make our product lineup more competitive, as demand for advanced diesel powertrains continues to rise. And building our own engines will also open us up for business with a whole new set of great suppliers that will expand their capacity in this country and create new employment.

Great engines in great vehicles. That is right at the heart of GM's Corporate vision. And right at the heart of what we actually do as we are launching product after product into the various markets in our region.

The Chevrolet Camaro is coming to Japan and we are offering customers two-day test drives to really experience this one-of-a-kind muscle-car that outsells its competitor month after month in the U.S. We are bringing the Chevrolet Malibu, Traverse and Camaro to Guam. We just launched the Chevy Spark in Indonesia.

The key product coming to this region is the Chevy Cruze. The Cruze is a dynamic sedan which proves that exciting design and value are not mutually exclusive.
The Cruze features a dramatic re-interpretation of the traditional sedan featuring Chevrolet's new global design language that is becoming a signature on all new products carrying the golden bowtie. Tight body-panel-fits add to a high quality, 'hewn from solid' appearance, setting a new standard for this segment around the world.

Soon coming to a Thailand dealer near you!

This is our plan, Engage people. Grow Relationships. Show commitment and always focus on the customer. Design, Build and sell the world's best vehicles.. This is the new GM. This is what I passionately believe in. This is what we do!

I would like to thank you for what you do for General Motors and Chevrolet.

Khob khun krup! Thank you.

Front Page

Printer-friendly version

Mail to friend