| | |
| --- | --- |
| | |
Events

15 May 11 23:48
Peter Wolf, Plant Manager BMW Manufacturing Co., Ltd. Thailand
| | | |
| --- | --- | --- |
| | | |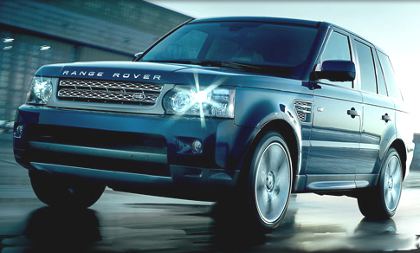 Range Rover ... the ultimate driving experience in the world's most capable all-terrain vehicles. Join us for an experience you'll never forget...

Visit Land Rover

The 'Bee Emm' plant visit kicks-off at 10:00 hrs. Rendez-vous with Khun Sethi Anutarasoti, Director Corporate Communications BMW Group Thailand. Location: 28th floor All Seasons Place, Wireless road, Bangkok.Fifteen minutes we're later en route to meet Mr Peter Wolf boss of BMW Plant Rayong.

We're riding in the BMW flagship 730Ld (L:Long-d:diesel)
powered by a 3-liter high-tech turbo diesel known in the media as the "Torque of the Town" or "Efficient Dynamics" motor. The BMW engineers have reinvented the old rattling, shaking, smoke belching, oil burning motor Dr Rudolf Diesel invention. Khun Sethi explains, "behind BMW EfficientDynamics lies a package of intelligent features which considerably reduce emissions and improve fuel consumption while, at the same time, boosting performance and increased driving pleasure. Freude am Fahren"

We hit the express way and I look a round in the back seat of the mineral white painted 7-Series. There's generous space, elegance and functionality. The flawless interior finish, includes all the bells and whistles such as the individually adjustable seats, massage function, ultra premium entertainment system with LOGIC7 surround sound with a DVD showing high-definition "Fast and Furious". Here I am in the midst of leather scent, fine textures in absolute comfort & luxury cruising at 160 km/hour watching extreme car chases, crashes and shoot outs – in stereo.

We exit the Bagna-Trat elevated BKK-Eastern Seaboard autostrada and hit a busy secondary road with slow SEA-LINE container trucks, local pick-ups and Japanese 125 cc motorbikes.

Moments later we enter the clean, modern and vast Amata City industrial estate which was established in 1995. Here at Amata City BMW started its operation in April 2000, with direct investment from BMW Group AG, Munich amounting to THB 1.8 billon (or EUR 35 million).

Peter Wolf, Managing Director of BMW Manufacturing who arrived in the Kingdom last year is our host and ciceron. The factory looks spick and span in the bright sun. The office & administration on first and staff canteen and staff lounge the ground floor.Mr Wolf explains, "the BMW Plant Rayong aka BMW Manufacturing Thailand Co., Ltd. employs 180 workers or "associates" in BMW terminology. Our staff is well trained, very skilled and our turn-over of staff is only one percent".


The over all manufacturing facility measures approximately 70,000 square metres of floor space. This plant is also rated as a COC or Centre of Competence, which in layman's terms means that it is a model plant for others to follow. The plant applies BMW's stringent world wide quality standard control.


Mr Wolf elaborates, "The BMW Plant Rayong is part of the global production network of BMW Group, which is has 24 plants in 13 countries. We are the smallest BMW plant in the world with only one assembly line but the most flexible with the capability to assemble the 3, 5, 7 and X3, X1 in 26 model variants and 12 engine types petrol and diesel engines. The capacity stands at 3,016 units per year. One shift a day. Mon-Fri. 08:00 - 17:30. It takes one and a half day to assemble a BMW here",says Mr Wolf.






"Last year our total production reached 25,000 BMW units since the plant was established in 2000. We'll have a celebration when we reach 50,000!" says Peter Wolf and laughs and shows us the way the warehouse and assembly line. We are now wearing hard hats, white laboratory coats and entering the assembly line. But before entering, "please, remove your watches. Scratch pevention!" explains Peter Wolf. "First station, warehouse were we unpack the containers. The content, the boxes are moved to the different stations for assembly. in CKD (Completely Knocked Down) mode. CKD or connecting the dots. Big and small components. The assembly process. The first station: 01 on the conveyer belt. Body, wheels, components,including many kilometers of copper cable. Ten stations. Final step the software is installed. Thereafter check after quality check. The assembly hall is not air conditioned, natural ventilation this is how we save enrgy. You see the high ceiling" Mr Wolf elaborates.On a more personal level. Khun Peter explains that he is from Southern Bavaria, Germany [BMW (Bavarian Motor Works) country].

Peter Wolf's background is automotive engineering. And he has been with the for the coveted blue and white marque for 25 years. This is his first time in the Kingdom. Wolf likes spicy Thai food. And with his spouse he plans to visit Chiang Mai and Doi Inthanon soon. Herr Peter Wolf a Bavarian and true BMW associate building luxury sedans and SAV in the Kingdom of Thailand.



Front Page

Printer-friendly version

Mail to friend