| | |
| --- | --- |
| | |
Events

14 Mar 11 09:36
All New Hyundai SONATA Sport and New H1 Debuts
| | | |
| --- | --- | --- |
| | | |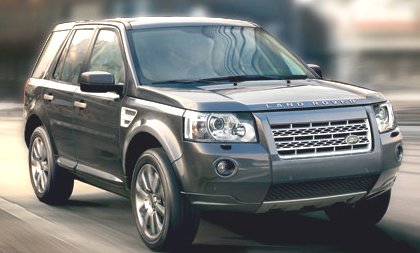 Land Rover ... the classic name in cars for the extraordinary driver...

Visit Land Rover

Hyundai Motor (Thailand) introduces All-New Hyundai Sonata Sport and The New Hyundai H-1 Series MY2011 to satisfy modern consumers who seek premium styling and innovative functionality and greater value for money.
Hyundai fans are invited to test drive four unique models during Bangkok International Motor Show 2011 under latest global branding concept "New Thinking. New Possibilities."


Hyundai Motor (Thailand) President Yoshizumi Kurata said with confidence that these two new products from Hyundai would become the major force behind the continuing success of the leading Korean automobile brand in Thailand. "All-New Hyundai Sonata Sport is a model change that goes to the extreme of becoming an attractive 4-door sport car with coupe styling under the renowned concept of Fluidic Sculpture Design, instead of the boxy executive vehicle styling. Its unique innovation truly reflects the strong characteristic of its driver, so powerful that it makes statement everywhere it goes. The New Hyundai H-1 Series MY2011 has been upgraded with more premium features to add extra appeal to the already luxurious MPV – the winner of Car of the Year Award 3 years in a row," he explained.



The all new Hyundai Sonata Sport comes in two versions - 2.0S and 2.0G in completely built-up form from South Korea with special introductory prices of 1,550,000 THB and 1,870,000 THB respectively.




A dynamic and powerful 2,000 cc engine delivers a maximum power output of 165 horsepower at 6,200 rpm and maximum torque of 198 newton-meter at 4,600 rpm
mated to a six-speed gate-t-ype automatic transmission with paddle shifts on the steering wheel for a dynamic sporty driving. Sport suspension with amplitude selective dampers (ASD),panoramic sunroof, smart entry with remote control
and button start system. Plus super vision dials with and on-board.



Additional features HID headlights (G version) and LED tail-light clusters 60:40 split read fold seats, multi-function steering wheel,foot parking brake, EBD and ABS Power front seats with memory (G version). 17-inch alloy wheels (S version) and 18-inch alloy wheels (G version) ESP (G version) Cruise Control (G version)





As for The New Hyundai H-1 Series MY2011, prices have been adjusted to accommodate new features for all existing versions namely Touring, Executive and Deluxe. These 3 versions of luxury MPV now have safety rails for every row of seats – 1st, 2nd and 3rd rows instead of 1st and 2nd rows only like in the out-going model.

The New Hyundai H-1 Series MY2011 comes with new prices as follows:
1,086,000 THB H-1 Touring
1,412,000 THB H-1 Executive and
1,494,000 THB H-1 Deluxe

All-New Hyundai Sonata Sport in 4-door coupe styling is indeed a new culture of a perfect combination of styling and performance, full with character and satisfaction – a unique offering to those demanding emotional satisfaction from their vehicles.

The New Hyundai H-1 Series MY2011 on the other hand is well refined through addition and improvement of standard features," he said.
During the Bangkok International Motor Show 2011 held between March 23 and April 5 this year, Hyundai has prepared to showcase other popular models such as The New Hyundai Grand Starex VIP and The New Hyundai Tucson 2.0 2WD and 4WD - The Sexy SUV, which are expected to come with exciting offers for enthusiastic buyers.

At this event, Hyundai Motor (Thailand) is also implementing the new CI requirements under the new brand communication concept of "New Thinking. New Possibilities." ,which clearly explains the way Hyundai sees the future of its product development -- that is greater focus will be given to quality and technology. The new global concept is also to highlight Hyundai as the 4th biggest selling brand of automobiles in the world.

"The new branding concept from Hyundai reiterates the fact that the leading manufacturer is serious focusing on developing cars that satisfy current and future customers through extensive quality concern, environment-friendly production methods and higher value for money, which naturally has been the key success of the brand worldwide. For Hyundai Motor (Thailand), this new development will help assure customers of greater product variety and improved satisfaction especially in the long-term ownership experience" he concluded.

Front Page

Printer-friendly version

Mail to friend