| | |
| --- | --- |
| | |
Rates for Online Advertising at CarSanook - all about cars in Thailand.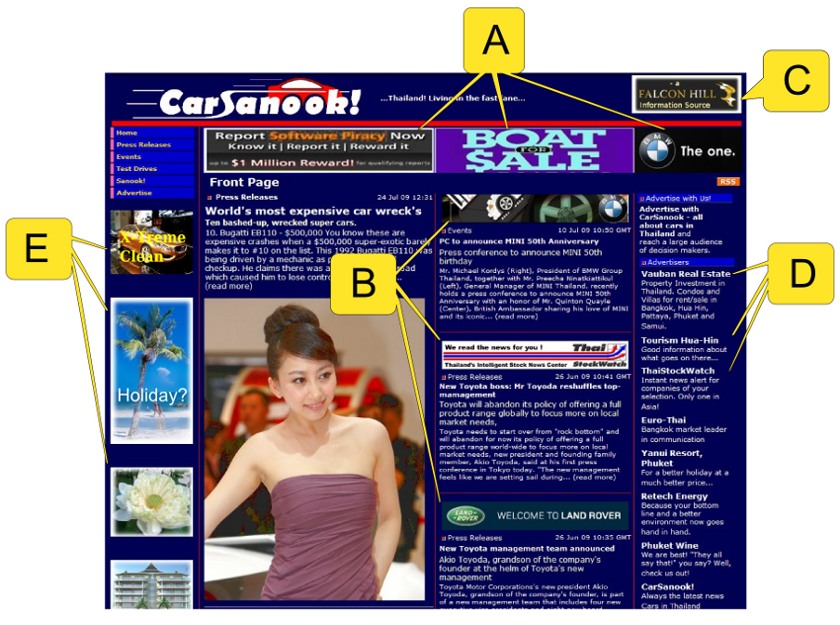 To get a quote, send a mail to with the following information
your business name and what you want to advertise
your name and position
where you are located
if you would need help on text, graphics etc
what advertising spot(s) you'd be interested in
Please inquire for special needs. We can help you with everything, from design to wording of your ad.

There is of course no commitment from your side by sending us the mail. But be sure to read our conditions below.

Conditions
"CarSanook - all about cars in Thailand" needs to protect our image, our readers and you, as serious advertiser on a respected media. For this reason we reserve the right to say 'Thanks, but no thanks!' to any advertising proposal without reasoning.

After an add is accepted and running the below must be true at all times:
Anything advertised must match the description in the add
The material linked to must not attempt to violate a visitors computers security or privacy in any way
The add itself and anything linked from it can not contain indecent, illegal, deceptive or otherwise objectionable content
The activity/business advertised must be of genuine and honest nature
In case "CarSanook - all about cars in Thailand" see problems with above we reserve the right to discontinue the add with immediate effect. Compensation for remaining time, minus cost etc., will only be considered in cases where it appears reasonable.